James Hobert

Speech Writer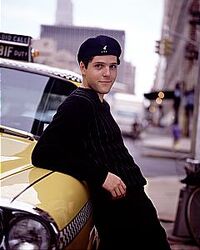 Appearances: Season 1 - 4
James Hobert is the mayor's speech writer. He is a naive, jovial, attentive, mature, educated, selfless, honorable, optimistic, bold, encouraging, respectful, thoughtful, judicious, aspiring, meticulous, even-tempered, sensitive, humble, observant, brilliant, empathetic, rational and trusting young man who can be very charming because of his innocence. He was born in Wisconsin, where he was a Pig Contest winner. He likes to shout Wisconsin rules! from time to time.
During the fourth season he was demoted from speech writer to Mike's assistant. Mike disguises this demotion by considering him the Deputy Deputy Mayor. After season four, Chaplin, along with the Britton and Dillard, left due to the shows move from New York City to Los Angeles.
James is played by Alexander Chaplin.
Community content is available under
CC-BY-SA
unless otherwise noted.